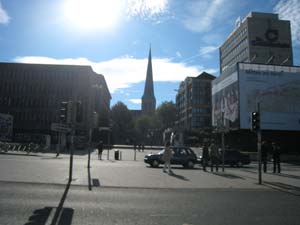 Well, I just got back from Dortmund a couple of days ago. I was Over There to take photos along the route we'll be travelling Over Here….
To clarify: I walked along the Hellweg between Dortmund and Unna, taking photos all along the route so we'll have plenty of visual material to look at while we're doing our walk on the 17th. The photos will be mapped onto the Hellweg and then superimposed along with the route over the British countryside.
Dortmund was great, and I was very well looked after Over There by Silvia and Ralf. If you're reading this, lots of thanks to you both. My walk was under a dead grey sky, but good and cool for walking, and culminated with my first visit to Unna. I've been living in Huddersfield for many years now, and this is the first of its twin towns that I've visited. Beautiful town centre, pretty quiet though – much more quiet than Dortmund had been when I'd left it 4 hours previously.
So I'm now collating the products of my German visit in preparation for the walk. I'll keep you posted as things move along.